TOUR ITINERARY
3 NIGHTS TOUR ITINERARY ALMATY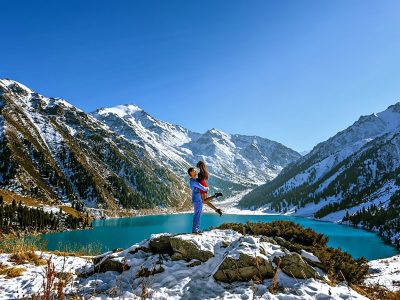 Day 1
16.35 - Arrival to Almaty airport , Welcome with a non alcoholic drink
17.00 - Transfer to the Hotel. Check-in. Free time
20.00 - 21.00 Dinner at Indian restaurants
Day 2
07.00 - 10.00 : Breakfast at the hotel coffee shop.
10:30 - 13.00 : Medeo skating-rink, gondola cable car to Chymbulak ski- resort- 3 rd levelThe Shymbulak Ski Resort is located 25km outside Almaty city. There are three ski lifts at the resort with the highestgoing to 3200 meters above sea level. There is also a Hotel located at the Resort, enabling those wishing to ski during the day, have a place to stay at night.The resort is located in the upper part of the Medeu Valley in the Zaiilisky Alatau mountain range. It is popular for its mild climate, large quantity of sunny days and great amount of snow through the winter.
13:00 - 14.30: Lunch at Indian restaurants.
15.00 - 19.00 : Falcan show : Hunting with hawks is one of the most unique features of the Kazakh way of life. We Invite you to visit the spectacular show with specially trained hunting birds and learn more about the traditions and history of falconry.
20:00 - 21:00: Dinner at Indian restaurants .
Day 3
06.30 - 07.00 : Breakfast at the hotel coffee shop.
10.00 - 13.00 Almaty City Tour: (outside) Republic Square : Republic Square is the main square in Almaty, Kazakhstan. It is used for public events. The former presidential palace, now used as municipal offices, is on its south side.
The Monument of Independence : The Monument of Independence is located on Republic Square, one of Almaty's main squares. The monument is dedicated to the Republic of Kazakhstan's rich history, from the time of Queen Tomiris to the present day. Palace of President : The Presidential Palace is quite an imposing building, which had originally served as a museum dedicated to Lenin. The architecture is characteristic of the Soviet style, as well as 1970s design, with large floors, impressive halls and mosaics. Today it hosts official meetings of local and international delegations. Museum of Musical Instrument : The Kazakh Museum of Folk Musical Instruments is a musical instrument museum located in Almaty, Kazakhstan. Located in Panfilov Park, the wooden building was erected in 1908, simultaneously with Ascension Cathedral. Zenkov Cathedral : The Ascension Cathedral also known as Zenkov Cathedral, is a Russian Orthodox cathedral located in Panfilov Park in Almaty, Kazakhstan. Completed in 1907, it is claimed to be the second tallest wooden building in the world, but the church of Sapânta and the monasteries of Bârsana and Peri, all in Maramures, Romania, are now all higher. Central Museum : The Central State Museum of Kazakhstan is the largest museum in Almaty, Kazakhstan, and one of the largest museums in Central Asia. When first established in 1931, the museum was located in the Almaty Cathedral.
13:00 14.00 Lunch at Indian restaurants .
15.00 - 20.00: President's park tour : The Park is located in the southern part of Almaty and has a spectacular mountain backdrop. The park is the home of the annual music festival called "Almaty – my first love". Shopping tour Mega center Shopping tour : Green Bazaar (For Fresh Fruits, Dry Fruits and Souvenirs)
21:00 - 22:00 : Dinner at Indian restaurants
Day 4
07.00 - 10.00 : Breakfast at the hotel coffee shop
Transfer to airport. Seeing off
INCLUSIONS:
Letter of Invitation from Kazakhstan (LOI)
Visa support and processing charges at Embassy of Kazakhstan
03 Nights Accommodation in mentioned Hotel on Twin / Double Sharing Basis
Welcome Almaty Guided City Tour (Outside)
Exciting Guided Mountain tour to Medeo & Chimbulak- 3rd Level
Falcon show with hunting bird show
Exclusive Shopping tour's
English Speaking Tour Guide
2 Breakfast at the hotel coffee shop
Meals on full board ( 2 Lunches + 3 Dinners )
1ltr Water Bottles Per Pax Per Day
All sightseeing tickets are included
24 Hrs Hotline Support
EXCLUSIONS:
any add-ins to itinerary
extra charges in airport
personal expenses
camera and video charges
tips ( not fixed, about 50$)
Personal expenses and other
expenses in nightclubs
4 NIGHTS TOUR ITINERARY ALMATY
DAY 1
16.35 Arrival to Almaty airport
17:00 Transfer to the Hotel. Check-in. Free time
20:00 - 21.00 Dinner at Indian restaurants
Day 2
TOUR TO MEDEO – CHYMBULAK AND FALCON SHOW
7:00 10.00 Breakfast at the hotel coffee shop
10:30 13.00 Medeo Skating-Rink, Gondola Cable Car To Chymbulak Ski-Resort: The Shymbulak Ski Resort is located 25km outside Almaty city. There are three ski lifts at the resort with the highest going to 3200 meters above
sea level. There is also a Hotel located at the Resort, enabling those wishing to ski during the day, have a place to stay at night.
13:00 14.30 Lunch at Indian restaurants
15:00 17:00 Falcan show : Hunting with hawks is one of the most unique features of the Kazakh way of life. We Invite you to visit the spectacular show with specially trained hunting birds and learn more about the traditions and history of falconry.
20:00 21:00 Dinner at Indian restaurants
Day 3
ALMATY PANORAMIC CITY TOUR WITH PRESIDENTS PARK
07.00 - Breakfast at the hotel coffee shop
10:00 - 13.00 Almaty City Tour: (outside)
Republic Square : Republic Square is the main square in Almaty, Kazakhstan. It is used for public events. The former presidential palace, now used as municipal offices, is on its south side.
The Monument of Independence : The Monument of Independence is located on Republic Square, one of Almatys main squares. The monument is dedicated to the Republic of Kazakhstans rich history, from the time of Queen Tomiris to the present day.
Palace of President : The Presidential Palace is quite an imposing building, which had originally served as a museum dedicated to Lenin. The architecture is characteristic of the Soviet style, as well as 1970s design, with large floors, impressive halls and mosaics. Today it hosts official meetings of local and international delegations.
Museum of Musical Instrument : The Kazakh Museum of Folk Musical Instruments is a musical instrument museum located in Almaty, Kazakhstan. Located in Panfilov Park, the wooden building was erected in 1908, simultaneously with Ascension Cathedral.
Zenkov Cathedral : The Ascension Cathedral also known as Zenkov Cathedral, is a Russian Orthodox cathedral located in Panfilov Park in Almaty, Kazakhstan. Completed in 1907, it is claimed to be the second tallest wooden building in the world, but the church of Sapânta and the monasteries of Bârsana and Peri, all in Maramures, Romania, are now all higher.
Central Museum : The Central State Museum of Kazakhstan is the largest museum in Almaty, Kazakhstan, and one of the largest museums in Central Asia. When first established in 1931, the museum was located in the Almaty Cathedral.
13:00 14.00 Lunch at Indian restaurants
15:00 19.00 Presidents Park : The Park is located in the southern part of Almaty and has a spectacular mountain backdrop. The park is the home of the annual music festival called "Almaty – my first love".
Esentai Mall (Branded & Luxury Items)
21:00 22:00 Dinner at Indian restaurants
Day 4
TOUR TO KOK TOBE WITH EXCLUSIVE SHOPING TOURS
07.00 Breakfast at the hotel coffee shop
10:00 13.00 Kok Tobe: Kok tobe is a mountain which is the highest point of Almaty, Kazakhstans largest city. There is a popular recreation area on top of the mountain. The mountains height is 1100 meters above sea level. Kok-tobe is one of the main landmarks in the city, and it is popular among visitors and tourists to Almaty.
13:00 14.00 Lunch at Indian restaurants
15:00 20:00 Shopping tour : Green Bazaar (For Fresh Fruits, Dry Fruits and Souvenirs)
Mega Center (General Shopping)
21:00 22:00 Dinner at Indian restaurants
Day 5
TIME TO GOOD BYE
5:00 Transfer to airport. Seeing off
INCLUSIONS:
Letter of Invitation from Kazakhstan (LOI)
Visa support and processing charges at Embassy of Kazakhstan
03 Nights Accommodation in mentioned Hotel on Twin / Double Sharing Basis
Welcome Almaty Guided City Tour (Outside)
Exciting Guided Mountain tour to Medeo & Chimbulak- 3rd Level
Falcon show with hunting bird show
Exclusive Shopping tours
English Speaking Tour Guide
2 Breakfast at the hotel coffee shop
Meals on full board ( 2 Lunches + 3 Dinners )
1ltr Water Bottles Per Pax Per Day
All sightseeing tickets are included
24 Hrs Hotline Support
EXCLUSIONS:
any add-ins to itinerary
extra charges in airport
personal expenses
camera and video charges
tips ( not fixed, about 50$)
Personal expenses and other
expenses in nightclubs
5 NIGHTS TOUR ITINERARY ALMATY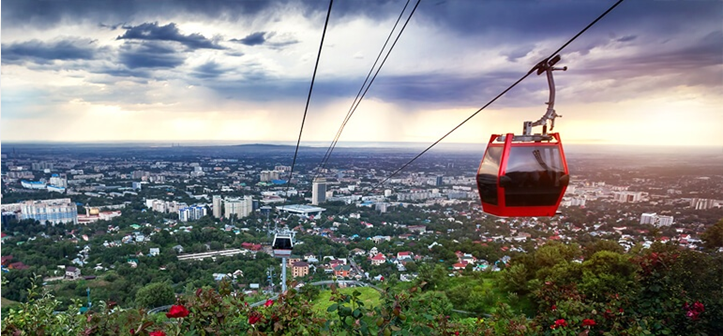 Day 1
16.35 Arrival to Almaty airport
17:00 Transfer to the Hotel. Check-in. Free time
20:00 21.00 Dinner at Indian restaurants
Day 2
7:00 09.00 Breakfast at the hotel coffee shop
10:30 13.00 Medeo Skating-Rink, Gondola Cable Car To Chymbulak Ski-Resort: The Shymbulak Ski Resort is located 25km outside Almaty city. There are three ski lifts at the resort with the highest going to 3200 meters above
sea level. There is also a Hotel located at the Resort, enabling those wishing to ski during the day, have a place to stay at night.
13:00 14.30 Lunch at Indian restaurants
15:00 17:00 Falcan show : Hunting with hawks is one of the most unique features of the Kazakh way of life. We Invite you to visit the spectacular show with specially trained hunting birds and learn more about the traditions and history of falconry.
20:00 21:00 Dinner at Indian restaurants
Day 3
09.00 Breakfast at the hotel coffee shop
10:00 - 13.00 Almaty City Tour : Republic Square and the Monument of Independence, Palace of President, Zenkov Cathedral. Central Museum ,Museum of Musical Instrument.(outside)
13:00 14.00 Lunch at Indian restaurants
15:00 19.00 Presidents park
Mega Center (General Shopping)
21:00 22:00 Dinner at Indian restaurants
Day 4
08.00 Breakfast at the hotel coffee shop
10:00 13.00 Tour to Charyn Canyon- The Charyn Canyon is located in the Charyn National Park about 215km east of Almaty and approximately a 3 hour drive.
The Canyon itself is approximately 150 km long, and, in places up to 300 meters deep. One area of particular interest, is an area of 2km called the Valley of Castles, due to the pillars and rock formations forming imposing, almost man made structures.
13:00 Packed lunch
15:00 20:00 Continue tour to canyon
Then return back to Almaty city
21:00 22:00 Dinner at Indian restaurants
Day 5
09.00 Breakfast at the hotel coffee shop
10:00 13.00 Kok Tobe: Kok tobe is a mountain which is the highest point of Almaty, Kazakhstans largest city. There is a popular recreation area on top of the mountain. The mountains height is 1100 meters above sea level. Kok-tobe is one of the main landmarks in the city, and it is popular among visitors and tourists to Almaty.
13:00 14.00 Lunch at Indian restaurants
15:00 20:00 Shopping tour : Green Bazaar (For Fresh Fruits, Dry Fruits and Souvenirs)
Esentai Mall (Branded & Luxury Items)
21:00 22:00 Dinner at Indian restaurants
Day 5
5:00 Transfer to airport. Seeing off
INCLUSIONS:
Letter of Invitation from Kazakhstan (LOI)
Visa support and processing charges at Embassy of Kazakhstan
03 Nights Accommodation in mentioned Hotel on Twin / Double Sharing Basis
Welcome Almaty Guided City Tour (Outside)
Exciting Guided Mountain tour to Medeo & Chimbulak- 3rd Level
Falcon show with hunting bird show
Exclusive Shopping tours
English Speaking Tour Guide
2 Breakfast at the hotel coffee shop
Meals on full board ( 2 Lunches + 3 Dinners )
1ltr Water Bottles Per Pax Per Day
All sightseeing tickets are included
24 Hrs Hotline Support
EXCLUSIONS:
any add-ins to itinerary
extra charges in airport
personal expenses
camera and video charges
tips ( not fixed, about 50$)
Personal expenses and other
expenses in nightclubs